Francis Xavier Kilroy
29 November 1911 - 12 July 1988
By John Francis Leary
September 2020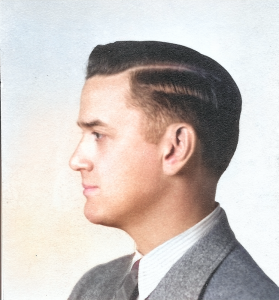 Francis Xavier Kilroy, or "Frank" to his family and friends, was my maternal grandfather. He was a lawyer who was active in his community and church. Following the U.S.'s entry into WWII in December 1941, at the age of 30 he volunteered to join the Navy.
Because he was married with a four-year-old daughter (my Mom, Frances), and because he was working in what was considered an "essential" position as the sole staff person for a member of Congress (Rep. William T. Byrne, NY22), he was not required to perform military service. He, like many others, chose to serve his country.
After months of training in officer candidate school in Newport, Rhode Island in 1942, he was assigned in the Spring of 1943 to help protect supply ships in the North Atlantic from German submarine (U-boat) attacks. He departed in March 1943 for what would be the climax of the Battle of the Atlantic during April and May 1943. The turning point of the battle was centered around his slow-moving convoy (ONS 5), which consisted of 43 merchant ships escorted by 16 warships. The convoy was attacked by a wolfpack of 30 German U-boats. The attack lasted for a week, only interrupted by a severe storm that reached 10 on the Beaufort scale (55-63 mph winds; 29-41 ft. seas).
On the penultimate day of the battle, May 5, 1943 at 14:53 GMT, his ship, the SS West Madaket, was torpedoed by German U-boat 584 in the North Atlantic and quickly sunk just south of Cape Farewell, Greenland. He and his shipmates were able to abandon the WWI-era ship before it disappeared beneath the waves. Possessing a lifelong fondness for animals, he managed to rescue the ship's cat. All 61 crew members survived and floated on life rafts for a day before being rescued by the H.M.S. Pink, an English warship. 
His convoy lost 13 ships, but was able to sink six U-boats and seriously damage seven more. The week-long battle demonstrated that the U.S. had not only figured out how to protect supply convoys, but also how to inflict significant losses on attacking U-boats. The battle was seen as the turning point in the Battle of the Atlantic. The German Navy referred to the month as "Black May." Following the battle, German Admiral Karl Dönitz called off operations in the North Atlantic and withdrew forces from the area. A good dramatization of a similar battle can be found in Tom Hanks's movie, "Greyhound."
Following 15 months of convoy duty in the North Atlantic, my grandfather served 13 months in the Pacific theater, assisting with the liberation of the Philippines. His favorite hobby at the time was photography and he captured many photos that give a good sense of what living on a ship was like, as well as stunning photos of South Pacific native culture and architecture. At some point, I hope to undertake the project of scanning the hundreds of photos he left behind.
After completing his service in WWII, he returned to his family and friends in Alexandria and went back to work on Capitol Hill for Rep. Byrne. He subsequently served as chief of staff for Rep. Leo O'Brien (NY-32) until his retirement in 1966. He ultimately retired from the Navy Reserve as a Commander. During his retirement, he enjoyed spending time with grandchildren, traveling, and watercolor painting. In January 1988, at the age of 76, he was diagnosed with pancreatic cancer. He entered Capital Hospice and died in his home on 12 July 1988.
My grandfather was one of the kindest and most compassionate people I've ever known. He had an unwavering sense of propriety and treated every person he encountered with dignity and respect.
When many Americans think about what makes America great, they think about the sacrifices of the millions of American service members (and their families) across generations who served our country. Such service has always been revered by Americans regardless of political affiliation.
Bibliography
SS West Madaket
Convoy ONS 5
Battle of the Atlantic
Black May
U-584
Wolfpack
H.M.S. Pink
Greyhound Movie
Karl Dönitz
List of shipwrecks in Atlantic
Beaufort Scale
William T. Byrne
Leo W. O'Brien